Apple TV is a popular streaming device that lets you watch movies, listen to music, and browse the internet. It's also an all-in-one entertainment hub for your home. 
But what if you want to connect your Bose headphones to Apple TV?
Chances are, you can't connect them to Apple TV because there's no headphone jack on it whatsoever.
That doesn't mean that your Bose headphones are useless though! Here's how to get around this problem using some simple methods and devices.
Disclaimer: If you buy through affiliate links on this article, we may earn a commission without any additional cost to you.
Best Bose Headphones that are compatible with Apple TV:
Bose offers a range of headphones that may be used with various television sets Like Apple, Samsung, Sony and etc.
Below is the list of some best headphones offered By Bose with discounts that is compatible with Apple TV.
$299.00
$379.00
4 new from $299.00
45 used from $189.99
as of October 30, 2023 4:36 am
$329.00
6 new from $329.00
41 used from $224.89
as of October 30, 2023 4:36 am
$137.00
$179.95
3 used from $137.00
as of October 30, 2023 4:36 am
$375.99
7 new from $375.99
24 used from $129.99
as of October 30, 2023 4:36 am
$149.93
$229.00
15 used from $149.93
as of October 30, 2023 4:36 am
Last updated on October 30, 2023 4:36 am
How To Tell If Your Apple Tv Has Bluetooth? 
Until now Apple has 6 tv models ranging from Apple TV (1st, 2nd, 3rd generation), Apple TV HD, and Apple TV 4K (1st, 2nd generation). 
Among them, Few have Bluetooth support for your headphones, speakers, etc. So if you want to check which model has Bluetooth, look into the following.
On your Apple TV's home screen, select 'Settings' using the Remote.
Under the 'Settings' select 'General'.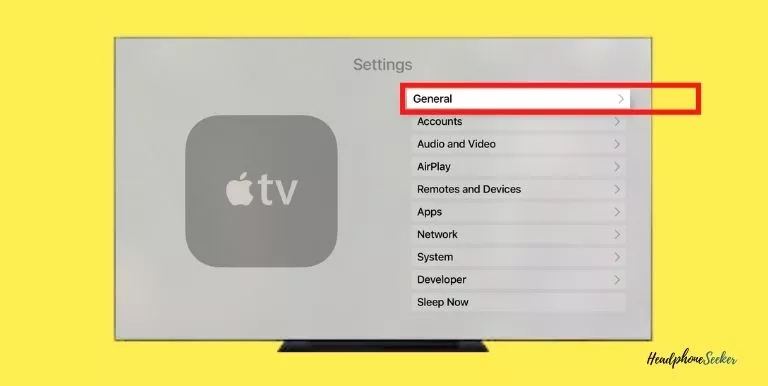 Now you are in the 'General' settings page, set your cursor on 'About' and hit Enter on your TV remote.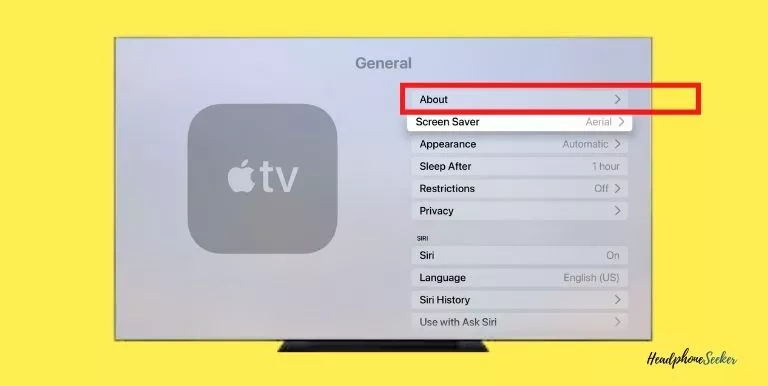 Here you can check the model number of your Apple TV.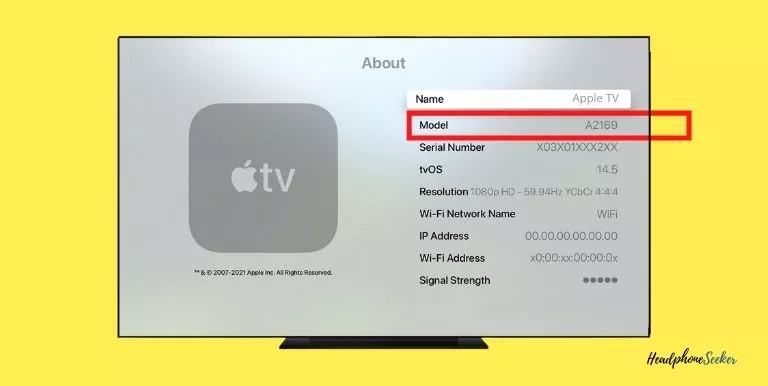 If the model number matches the model number that I listed below then it means your Apple TV has Bluetooth Support.
How To Connect Bose Headphones To Apple TV?
The procedure of pairing your Bose headphones with an Apple TV is very simple.
Here are some steps which will help you in how to pair a Bose Wireless Headphone with Apple TV without any hassle.
First, 'Turn On' your Bose wireless headphones, here I have Bose Noise Cancellation 700 headphones, by Pressing the Power Button once. you will see a blue light blinking just below the Power Button of your headphone.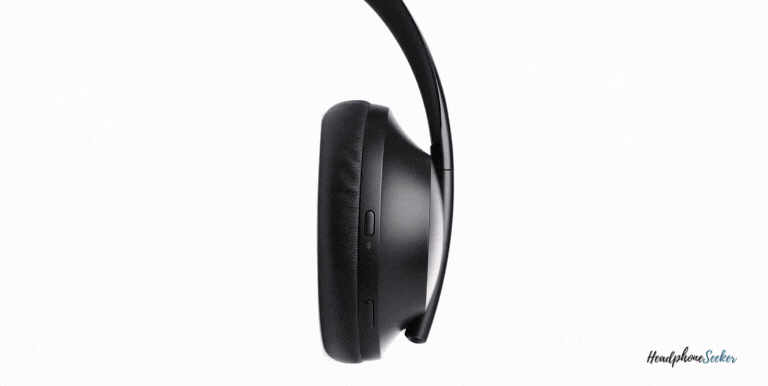 To put your Bose Bluetooth headphone in pairing mode , press and hold the Power Button for a few seconds unless you hear the sound of saying Ready to Pair or you see the stable blue light.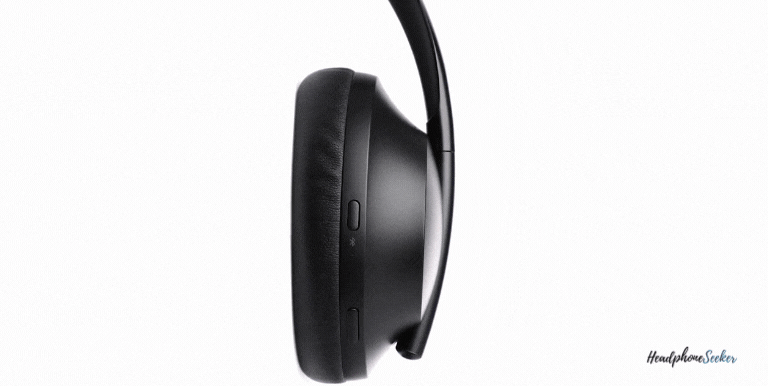 Now turn on your Apple TV device. On the Apple TV Home Screen,  Select the Settings Application.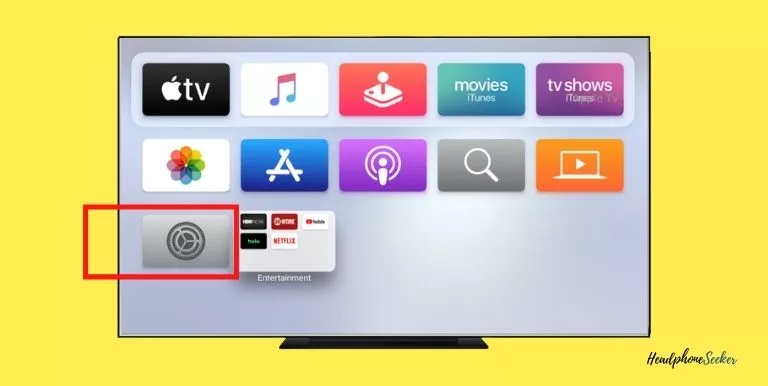 From the Settings Menu you have to select the Remotes and Devices.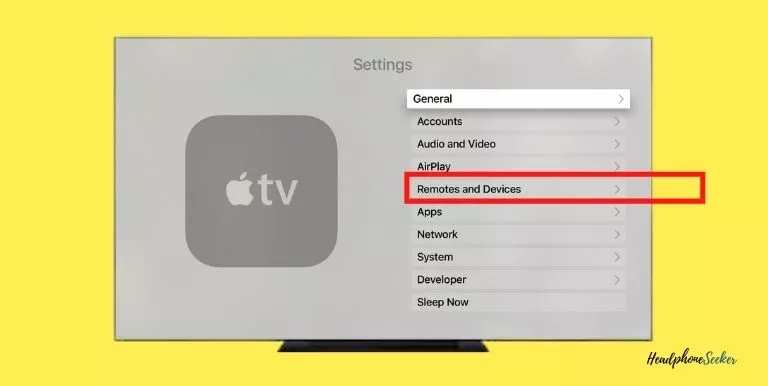 Under the Remotes and Devices click on the Bluetooth.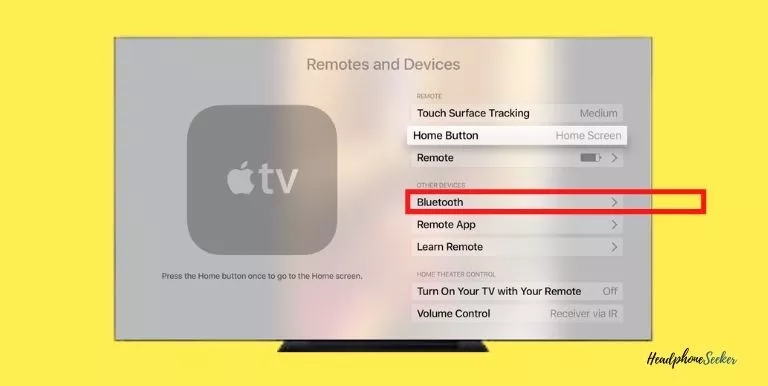 In the Bluetooth menu it will take a few seconds to search for available Bluetooth devices. Once it is done searching, it will give you a list of Bluetooth devices.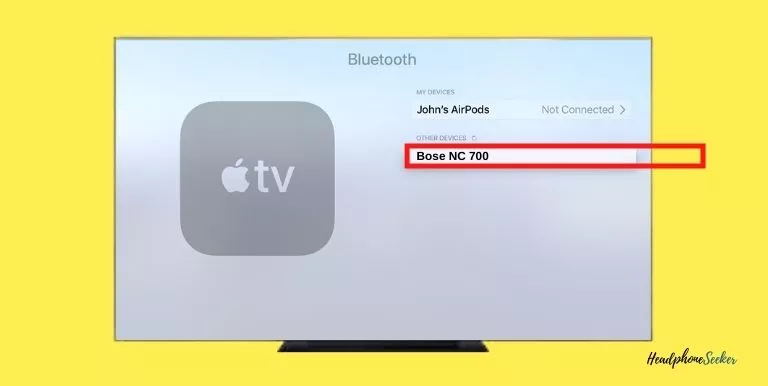 Now select your Bose wireless headphone from the list of devices shown. If your device is not showing in the list, click on Rescan Device button.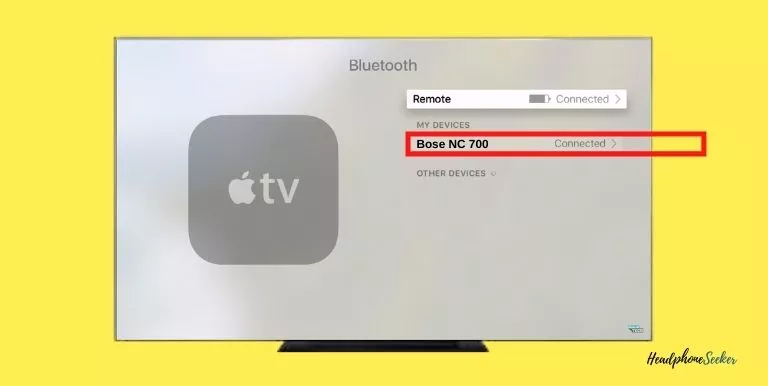 Once you pair your Bose Headphone with Apple TV, it will automatically connect the next time you are using your Apple TV.
You are done now, You can play any Audio or Video on Apple TV and listen to the same through Bose Headphones.
How to Unpair Bose Bluetooth Headphones from Apple TV?
As you are going to connect your Bose headphones to Apple TV for playing music wirelessly, you are probably expecting it to work.
But, when plugged in your headphones don't produce any sound through the Apple TV.
At this point, you must be thinking of having my Bose Bluetooth headphones paired with any other device. So here, the better option is To free up the memory of linked Bluetooth devices that have been connected.
The solution is simple, you can do it by using Bose Connect App or using the Buttons on the headphone, so let's get started.
Firstly , you need to make sure that your headphones are charged.
Secondly, Power on your Bose bluetooth headphones, by pressing the Power Button.
Thirdly, press the Power/Bluetooth button of your headphones until you hear the Voice in your headphones that Bluetooth device list cleared.
Note: For Bose Quietcomfort 35, in the third step you just have to slide the Power/Bluetooth.
FAQs:
Can I connect Bose Noise Cancelling 700 to Apple TV 4K?
The Bose Noise Cancelling 700 headphones are designed to work best with an iPhone, iPad, or Apple Watch via Bluetooth and with a smart tv that has Bluetooth capability, like the Apple TV 4K. 
The headphones will work as expected when connected to these devices for music and video playback. 
Can I connect two Bluetooth Devices to my Apple TV?
You can share the audio of apple tv with two pairs of compatible Bluetooth headphones. Such as AirPods or Powerbeats Pro. 
However, other Bluetooth headphones, like Bose, will not be able to connect to your Apple TV at the same time.
Can you connect Bose Quietcomfort to Apple TV?
Yes, you can. Connecting a Bluetooth device to Apple TV is not that difficult and you don't have to spend a lot of money at a mechanic.
You will have to use a headphone jack or Bluetooth adapter If you don't own an Apple TV 3.
Then you have very few options in terms of getting sound through your headphones wirelessly, for example with the help of Chromecast, etc.
Why won't my Bose headphones connect to Apple TV?
If your Bose headphones have trouble pairing with  Apple TV, you can just try the following solutions:
Check whether your Bose headphones and Apple TV are too far away from each other.
Check whether there is anything blocking the connection between 2 devices.
Try to reset Bose headphones to factory settings.
Try to update the firmware of Bose headphones.