The Google Pixel Buds Pro is the company's latest wireless earbuds. They feature an updated design that should make them more comfortable to wear for long periods of time. The biggest change is the addition of active noise cancellation (ANC).
Jabra Elite 85t also features an updated design as its predecessor but is not as comfortable to wear for long periods of time. They offer decent noise cancellation, impressive sound quality, and voice assistant support.
So, if you are looking for wireless earbuds to pair with your new Google Pixel 6 phone series or other Android phones, this comparison of Google's Pixel Buds Pro vs Jabra Elite 85t is for you.
We'll see how they stack up in design, features, sound quality, battery performance, and more.
Disclaimer: If you buy through affiliate links on this article, we may earn a commission without any additional cost to you.
Price & Value:
If you're trying to decide between the Google Pixel Buds Pro and the Jabra Elite 85t, the price will always be a major factor.
The Google Pixel Buds Pro is the more expensive option, with a list price of $200. Jabra Elite 85t were initially released with a list price of $230, which was back in Nov 2020.
The price has since dropped to $180, making them a more attractive option. Also, you can get the earbuds at a discount price of as low as $150.
Jabra Elite 85t is the better value proposition, especially given their lower price and feature-rich design.
Winner: Jabra Elite 85t
Google Pixel Buds Pro vs Jabra Elite 85t: Specs Comparison Table
| Specs & Features | Google Pixel Buds Pro | Jabra Elite 85t |
| --- | --- | --- |
| Price | $199 | $230( Currently $180) |
| Release Date | July 2022 | Nov 2020 |
| Predecessor | Google Pixel Buds | Jabra Elite 75t |
| Wireless Charging Case | Yes | Yes |
| Chip | Google six-core processor | Qualcomm QCC5126 processor |
| Battery Life | 7 hours (ANC on), 11 hours (ANC off), 20 hours (charging case with ANC on), 31 hours (charging case with ANC off) | 5.5 hours (ANC on), 7 hours (ANC off), 24 hours (with charging case) |
| Water Resistance | IPX4 | IPX4 |
| Size | 0.88 x 0.87 x 0.93 inches (per bud); 0.98 x 1.97 x 2.49 inches (charging case) | 0.91 x 0.75 x 0.64 inches (per bud); 2.55 x 1.6 x 1.12 inches (charging case) |
| Weight | 6.2 Grams (per bud); 62 grams (charging case) | 7 Garms (per bud); 45.1 Garms (charging case) |
| Colors | Coral (salmon & orange), Fog (light blue with gray undertones), Charcoal (lighter gray), and Lemongrass (light yellow & green) | Black, Copper Black, Gold Beige, Gray, Titanium Black |
| Special features | Active noise cancellation, transparency mode, Volume EQ, Google Translate, Notifications, Eartip Seal, spatial audio, audio switching, Google Assistant voice activation, Check, Find My Device, Bluetooth multipoint | Advanced ANC, ADJUSTABLE HEAR THROUGH (TRANSPARENCY MODE), 2mm speakers, a customizable equalizer, AAC and SBC codecs, In-app hearing test automatic switching, MyFit, "Hey Google" or "Alexa" voice or "Siri "activated assistance, |
Battery Performance:
Jabra Elite 85t offers an impressive battery life of up to 7.5 hours on a single charge. However features like  ANC, streaming, high volume, and EQ settings can affect the battery life.
ANC mode is the single biggest battery drainer, as it reduces the battery performance to 5.5 hours.
With the charging case, you can get up to 31 hours of total battery life, roughly 4-5 extra charges.
Jabra makes up for the short battery performance in the sleep mode feature. The earbuds will automatically enter sleep mode when not in use for a specified period.
Google's latest buds offer 7 hours with noise cancellation on or up to 11 with it switched off. The charging case extends that to 30 hours of playtime.
Both earbuds support wireless charging but only Google Pixel buds come with a fast charging feature that can give you an hour of listening time after just 15 minutes of charge.
Winner: Google Pixel buds Pro
Design: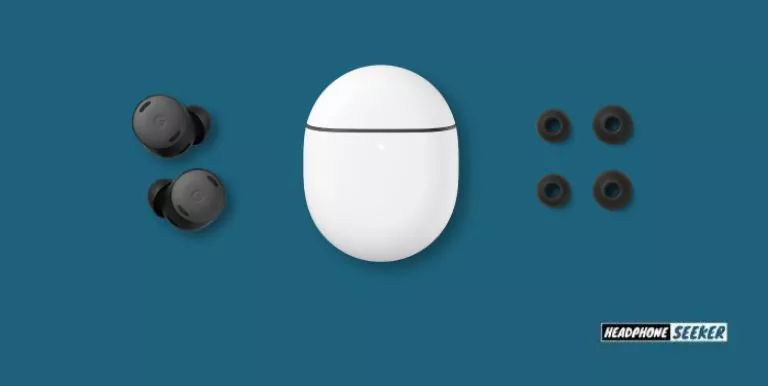 When it comes to design, the Google Pixel Buds Pro and Jabra Elite 85t earbuds are quite different.
The Elite 85t earbuds are oval-shaped and protrude a little from the ear and don't offer as snug a fit as their predecessor Elite 75t. There is a great chance of them falling out during exercise.
Jabra earbuds have a semi-open design to prevent pressure build-up which can be a common issue with in-ear designs and they also don't cause as much ear fatigue.
The Pixel Buds Pro, on the other hand, has a little flatted and elongated design. They ace in aesthetic appeal and are more compact and lightweight. Despite their unique design, the fit is quite snug and they don't fall out easily.
The Elite earbuds are quite comfortable, but the Pixel Buds Pro is even more so.
There is a physical button on each Jabra earbud that controls music playback, volume, and a feature called HearThru (like transparency mode on Apple).
The Google Pixel buds also offer these features but they don't have a physical button. Rather, you have to tap them, and the built-in sensors will detect them.
Both earbuds are IPX4 water-resistant, meaning they're protected against the odd splash of water or a little sweat. You can't take shower or swim with them, but they'll be fine for a run in the rain or working out at the gym.
Winner: Google Pixel Buds Pro
Features:
Let's compare the features of Google Pixel Buds Pro vs Jabra Elite 85t as it can be a make or break factor for some people.
Noise Cancellation:
Both earbuds offer noise cancellation, and none takes the lead here. Both have three mics on each earbud and use advanced algorithms to cancel out the noise.
Similarly, you get Apple Pods-like transparency modes on both these earbuds. The HearThru feature on Jabra and the ambient awareness feature on Google Pixel Buds Pro let you hear the ambient noise around you.
None of them can stand the ANC of the Sony WF-1000XM4, but they're still quite good.
Voice Assistant:
Both these earbuds support voice assistants. The Google Pixel Buds Pro uses the company's own assistant, and you can activate it by saying "Hey Google."
The Jabra earbuds are compatible with all three major voice assistants, i.e., Amazon Alexa, Apple Siri, and Google Assistant.
Bluetooth Connectivity:
It seems that Google has taken a leaf out of Jabra's book as the Pixel Buds Pro comes with the same technology (Bluetooth 5.0) and also offers multipoint pairing.
This feature lets you connect the earbuds to two different devices simultaneously and switch between them seamlessly.
You can make calls on your phone and then quickly switch to your laptop to continue working without any interruption. Audio dropouts are rare, but not impossible.
Bluetooth Codecs: 
Both these earbuds support AAC and SBC Bluetooth codecs. There were some rumors that Google Pixel Buds Pro will add aptX and LC3 support as well, but that isn't going to happen.
Winner: Tied
Sound Quality:
Both earbuds can handle most music genres well, and there are striking similarities in their sound profile. However, the early users have suggested that the Pixel Buds Pro has an edge over the Jabra earbuds in terms of sound quality.
Jabra offers a fully customizable equalizer in the Sound+ app, and you can use it to fine-tune the audio output as per your liking.
The Pixel Buds Pro, on the other hand, doesn't have an equalizer yet. But Google promised to add one in a future software update. Spatial Audio will also be coming to the Pixel Buds Pro, but it will be locked behind the Pixel phones only.
Winner: Tied
Final Verdict:
These earbuds have so much in common that it's quite difficult to pick a winner. Still, we will have to go with Google Pixel Buds Pro as the better earbuds as they offer slightly better sound quality and are more comfortable to wear for long hours.