Nowadays,  the Apple Watch is one of the most popular wearable devices. A lot of people use it to keep track of their daily activities and workouts.
However, with the apple watch, you can listen to music or podcasts and make phone calls as well (whether your paired iPhone is in your pocket or not).
As we know, the Apple Watch doesn't have a headphone jack, which means you can't just plug in your headphones like you can with an iPhone.
For that reason, you are just left with one option: pair any compatible Bluetooth device with your Apple Watch. In our case, we would try to connect Bose Bluetooth headphones or earbuds with the Apple Watch.
Don't worry, I'll assist you to connect your Bose headphones to your Apple Watch and provide solutions for the most frequent problems that may arise while pairing.
Before further ado, Here's how to accomplish it.
Disclaimer: If you buy through affiliate links on this article, we may earn a commission without any additional cost to you.
Connecting Bose Wireless Headphones And Earbuds To Your Apple Watch:
How to Connect Bose Wireless Headphones to your Apple Watch Series 7,6,SE,5,4, and 3:
Here you don't have to put much effort just follow simple steps which will lead you to link your Bose headphones to any of your Apple Watch series.
The first step first, you have to unpair your Bose Wireless Headphones if it is previously paired with any of your devices.
Now, You have to turn on your Bose Bluetooth headphones to put them in the pairing mode.
On your Bose Headphones, you have to press the Power Button for almost 5 to 10 seconds until you see the flashing white light appear on the earcups.
Now your Bose Headphones are ready to link with your apple watch.
Now it's time to deal with your Apple Watch.  ​From the Apple Watch Home screen,
Open the "Settings app"
In the Setting app Scroll down or up a little bit, Tap "Bluetooth" from the menu once you see it.
In Bluetooth, you have to make sure the bluetooth is turned on, if not toggle between on and off.
 Now within the second available devices would be pop on.
Tap the name of your headphones to link up with your apple watch.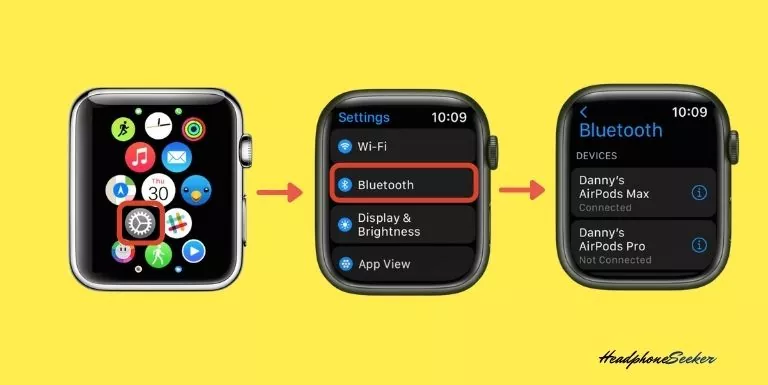 Now you can enjoy listening to your music on the go with your Bose Wireless Headphones with ease.
How to disconnect Bose Bluetooth headphones from your Apple Watch
You have to perform the following steps in order to disconnect Bose Bluetooth headphones from either Apple Watch series 7 or series 6 :
Firstly, open the Settings app on your Apple Watch screen.
In the settings app, tap on the Bluetooth option.
Now you have to just tap on the name of your Bose headphones to disconnect them.
Now you can see the info button "i" next to the name of your Bose Bluetooth headphones. You have to tap on the "i".
After that two options are Disconnect Device or Forget Device would appear on the screen of your apple watch.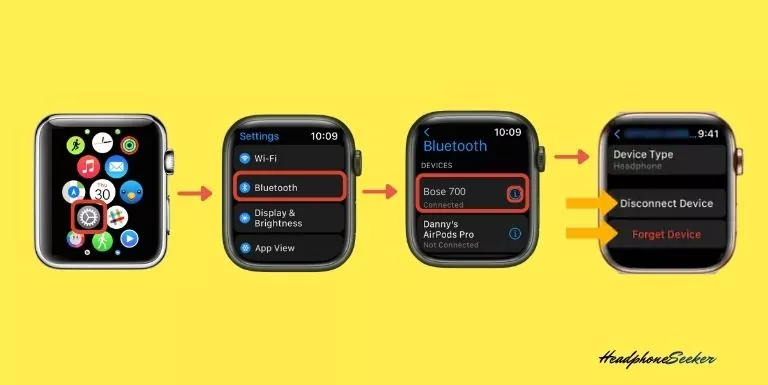 you can Tap on "Forget Device" if you don't want to connect your Bose Bluetooth headphones with this Apple Watch in the future.
How To Connect Bose Earbuds to Apple Watch (Series 7, 6, SE, 5, 4, 3):
Now to connect your Bose earbuds to your Apple watch, you'll need to follow the instructions below.
Firstly you have to take out your earbuds from the case to put them into the pairing mode with your apple watch.
On your earbuds, you can see the flashing blue light, which indicates that earbuds can be paired with your apple watch.
After that, you have to perform the same steps on the watch screen as you did for headphones.
In Settings App, Tap on Bluetooth, Select your Earbuds from the available devices by simply tapping on the name.
What to do if your Bose Headphones are not Linking to your Apple Watch?
If your Bose headphones are not paired to your Apple Watch, there are a few things you can do. 
Let's have a look at their solutions.
Clear Bose Headphones from Bluetooth Pairing list:
It is a fact that once you pair your Bluetooth headphones with any device, that device simultaneously becomes paired once the Bluetooth headphones are in the range.
This can be really frustrating when you're trying to pair your Bose headphones with an Apple watch, and the only question that arises in your mind is how to clear the pairing list on bose headphones?
To solve this, you have to clear the headphones from the Bluetooth pairing list on your device. 
For that, you just have to turn off the Headphones and after that, you have to press the power button for at least 10 seconds unless you can hear the voice saying "Bluetooth device list cleared".
You can also use your Bose Connect App to remove previously paired devices. For that, you have to go through the below-given steps.
Open your Bose Connect app and let the app Search for your Bluetooth headphones or earbuds.
Once the app Finds the headphone it previews the image of it, and you have to tap on the Bluetooth icon below your headphone image.
However, if you have multiple Bose Bluetooth products, you just simply swipe towards the left or right and select the Bluetooth icon under the product image.
Now the CONNECTIONS menu would appear on the screen of your smartphone, you have to tap the EDIT button below the CREATE NEW.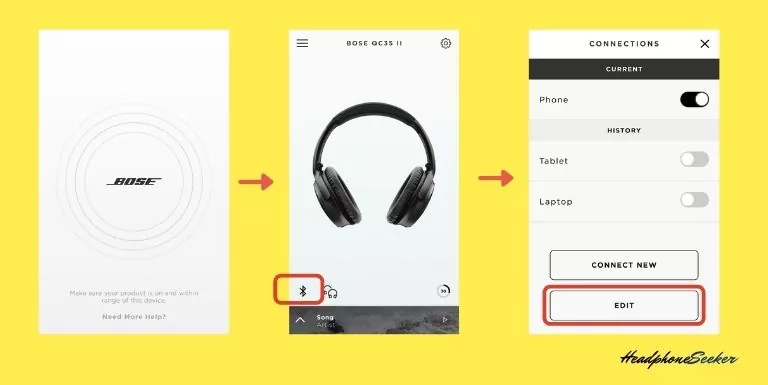 You can remove a device from memory by tapping the "X" next to its name.
A Popup menu will appear and give you the option to Disconnect or remove the device.  Here you have to tap on the  DISCONNECT button to confirm the removal of the device.
Once you finished the editing, press the ALL DONE button on the screen.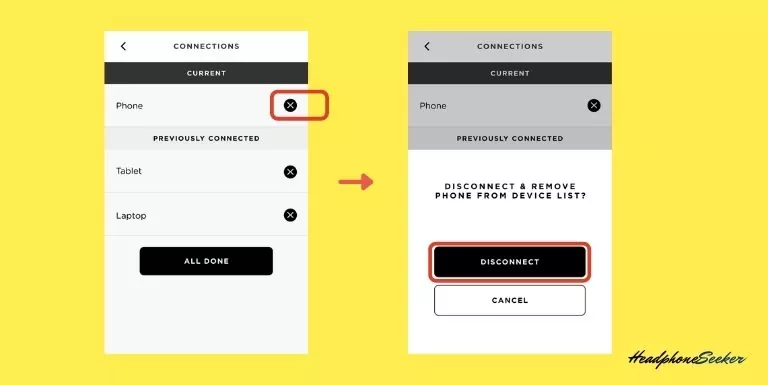 This will allow your Bose Headphone to return within the pairing mode again, and now you can apply the above-mentioned steps to pair them with your Apple watch.
If you're still having trouble connecting, go on to the next step.
Airplane Mode Hack
To begin with, turn on the bose headphones pairing mode by simply holding the power button for a while.
Now you have to turn on Airplane mode on your Apple Watch, if you use the LTE version, by following the below instruction.
Firstly you have to access the apps screen by pressing the Digital Crown.
Now you have to tap the Settings icon on the watch screen.
You can see the Airplane Mode option within the setting and tap on it.
After that you can toggle between turning on or off.
However, you can also access the Airplane Mode by touching the bottom of your watch screen for a few seconds. Now the Control Center appears on the screen. From there you have to swipe up the screen and tap on the Airplane Mode button.
This will solve your issue otherwise If you're still experiencing pairing issues, move on to the next step.
Reset Your Headphones
If your headphones are not pairing with your watch, then you should reset your headphones. This can be done by following steps.
Firstly you have to power off your Bose Headphone.
Then after 30 seconds you have to plug your Bose headphones to a power outlet using your USB Charger for a few seconds.
After that you have to press and hold the Power/Bluetooth button for 7-10 seconds.
Within these 7-10 seconds you have to connect your USB charging cable to the charging port. 
Now you can see the power light on your Bose headphones blink twice.
Once you are done with it, Wait for 2 seconds before releasing the Power/Bluetooth.
Now you can turn on your headphones.
It's time to check that your Bose headphones are paired with your Apple watch. If you are still facing the same issue then you can restart your apple watch.
Restart Your Apple Watch:
Restarting your Apple Watch may be a solution to your problem. You have to just follow the given steps below:
First of all press the side button along with holding the DIgital Crown of the watch until the power off slider appears on the screen of the watch.
Drag the slider to the right side.
Now again you have to repeat the first step unless Apple Logo shows up on the watch screen.
After the force restart of the Apple watch, you can try to pair your Bose Bluetooth headphones. 
If this solution did not prove to be helpful, you have to just sell the Headphones and bring any other Bluetooth-compatible device for your watch.
How to Fix a Bose One Earbud That Isn't Working:
If one of your Bose earbuds isn't working, there are a few things you can do to try and fix it. 
First, make sure that the earbud is properly plugged into your device. If it's not plugged in all the way, it won't work. 
You should also check to see if the battery is charged. If the battery is low, the earbud will not work. 
Finally, make sure that the volume on your device is turned up high enough for the earbud to be heard. 
If none of these solutions work, you may need to take your earbud to a technician for repairs.