Apart from being just a tiring and hectic job, construction work takes a hell of a lot of toll on your auditory functioning. It is essential to identify the plausible effects the constant noises are going to take on your eardrums and your hearing range. 
It is crucial to invest in the right products that will keep you safe, and this is especially true for headphones that will reduce the noise around you on a job site.
There seem to be a few excellent products on the market if you are working on a repeatedly noisy job site and simply want to reduce the background noise to a more bearable level. You can even check some of these earbuds if you are looking forward to adding some music experience to your monotonous job.
This guide features headphones for construction workers which will help you decide the protective Bluetooth headset you should go with, depending on your need and budget.
Disclaimer: If you buy through affiliate links on this article, we may earn a commission without any additional cost to you.
How We Tested The Listed Earbuds:
By analyzing Reddit forums, online customer reviews, and expert opinions, we were able to identify the specific needs of construction workers when it comes to earbuds.
We then selected the earbuds according to construction workers' needs which were Durability, Dust and Sweat Proof ratting, Noise Reduction, Battery Life, and Comfort.
However, we tested the listed earbuds in different settings and situations, including noisy environments such as construction sites, to evaluate their durability, noise cancellation, and audio quality.
Furthermore, to assess the battery life and comfort, our team wore them for extended periods with default settings on each pair of earbuds. Within this time our team recorded the playback time and noted any sign of discomfort.
Top Picks
$159.99
$229.99
7 new from $159.99
32 used from $103.13
as of November 22, 2023 12:27 am
$109.99
2 new from $109.99
1 used from $94.54
as of November 22, 2023 12:27 am
$36.79
$45.99
as of November 22, 2023 12:27 am
Last updated on November 22, 2023 12:27 am
Top 9 Best Bluetooth Earbuds for Construction Workers
Bose QuietComfort Earbuds 2: Most Comfortable Earbud for Construction Workers
5 new from $199.00
30 used from $173.95
Free shipping
as of November 22, 2023 12:27 am
Specs and Features:
Durable: IPX4 Rated
Noise Isolation: Yes
Sound Profile: Bass Havey Sound Profile
Battery Life: 6 Hours
Two-Minute Review:
Bose is mostly known for excellent sound quality, top-class Noise cancellation, and ultimate comfortable fit. 
And with Bose QC earbuds 2, Bose takes these features to the next level, to offer an even more advanced experience making them ideal for both music lovers and construction workers.
Although, the Bose QCEII are neither OSHA nor NIOSH-compliant, But their adaptive ANC effectively reduces external noise like jackhammers, and pile drivers to give your ears the best listening experience in a nosy environment.
Moreover, QC 2 comes with an Ingress protection rating (IPX4) against dust, sweat, and water to prevent damage to the earbuds during the activities like concrete cutting and drilling.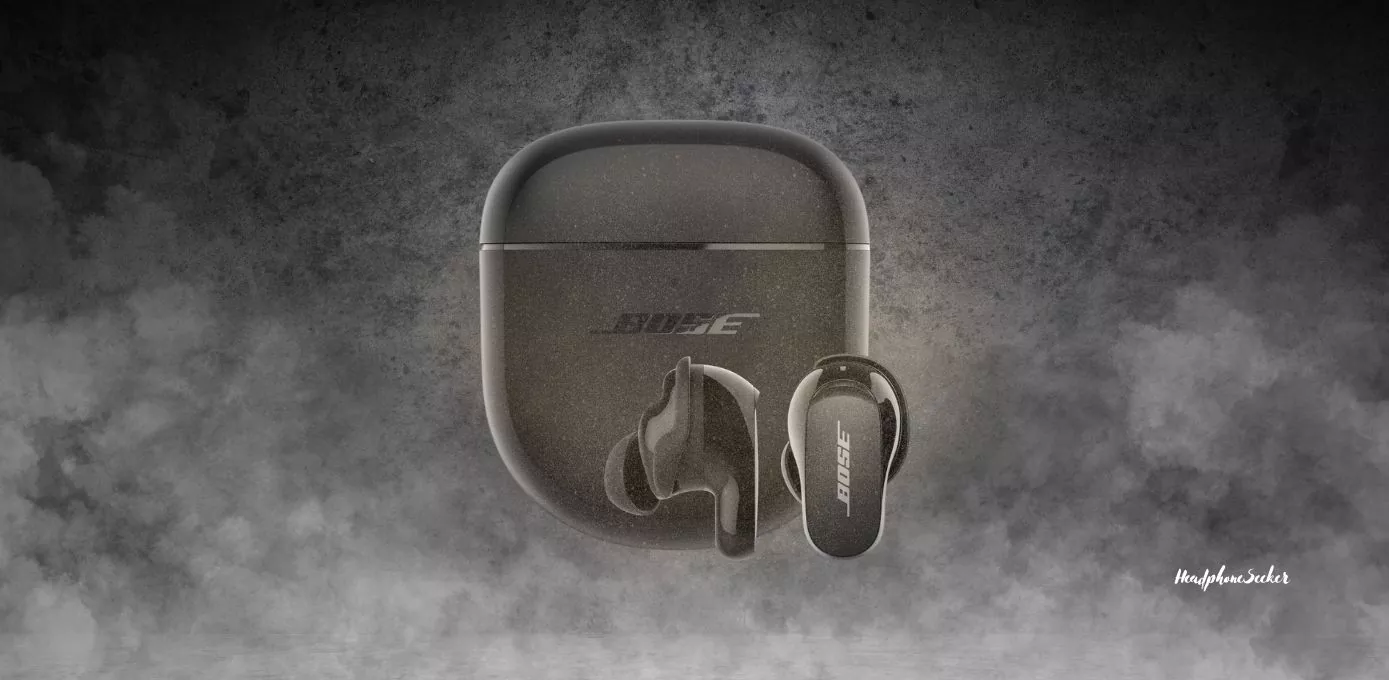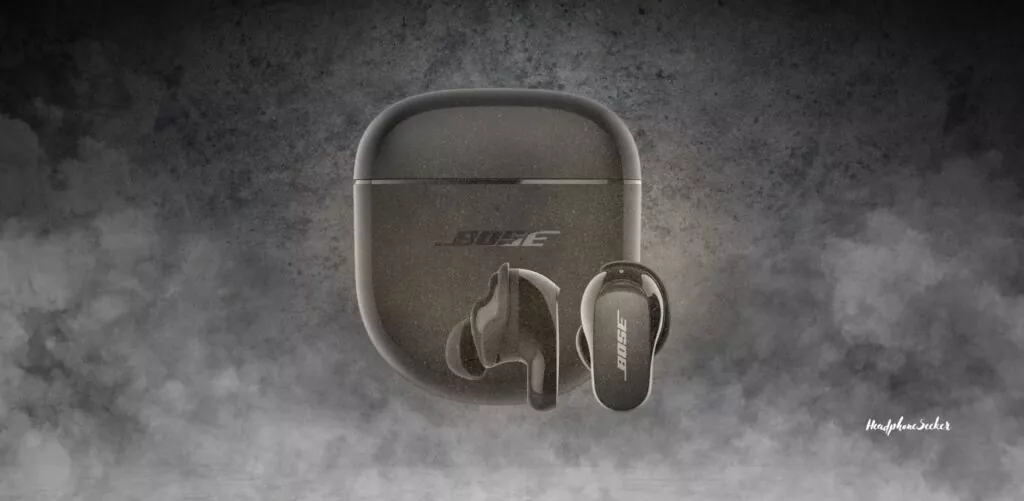 Along With a 6-hour playback time, these earbuds also provide a comfortable fit because they are lighter, and come with three different sizes of ear tips. Moreover 'stability band' options ensure that they won't fall out while working on the rugged terrain of a construction site.
Overall, with many smart features like CustomTune audio, Aware Mode, and many more, these earbuds are perfect companions on your construction site if you are on a budget. 
Reason to Buy and to Avoid:
Pros:
Lighter, more comfortable design
Top-of-line ANC
Excellent Sound Quality
Decent Battery Life
Cons:
Sweat-resistant of IPX4
Not OSHA nor NIOSH-compliant
Pricey
Samsung Galaxy Buds 2 Pro: Noise-Cancelling Earbuds for Construction Working
16 new from $158.99
20 used from $87.09
Free shipping
as of November 22, 2023 12:27 am
Specs and Features:
Durable: IPX7 Rated
Noise Isolation: Yes
Sound Profile: Neutral Sound Profile
Battery Life: 8 hours with ANC and 6.3 hours without ANC
Two-Minute Review:
When going through different Reddit threads we found that Samsung Galaxy Buds 2 Pro has become a popular choice among people who spend a lot of time on construction sites. 
The reason for their popularity is their durable design and long battery life. As with an IPX7 rating, these earbuds withstand the dust on the construction sites by different types of machinery. 
Furthermore, the solid plastic construction of Samsung Galaxy Buds 2 Pro offers great durability, making them resistant to accidental drops and impacts that are common in construction sites.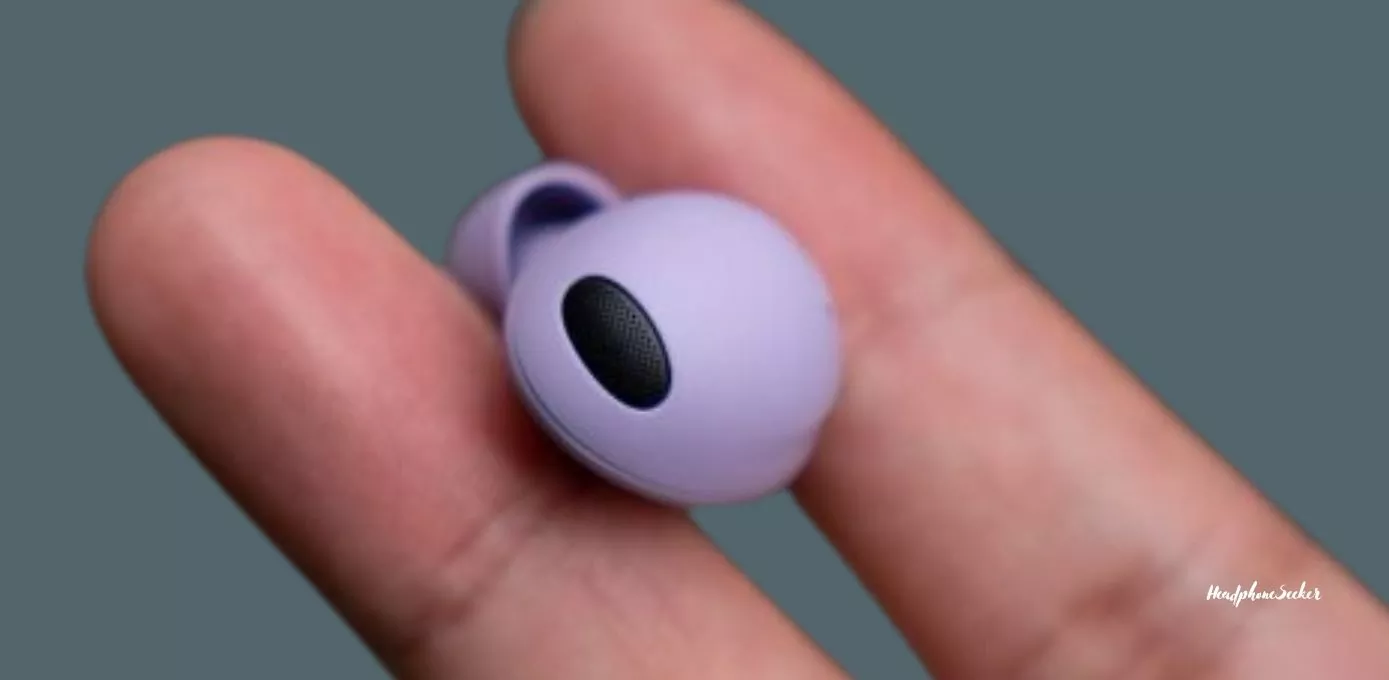 The lightweight design of 5.5 grams per earbud adds to their comfort and ensures that they can be worn for extended periods without causing any discomfort or fatigue to the ears.
Moreover, with a dual-driver design and tuning by AKG, the Buds 2 Pro sounds remarkable by providing depth and detail in the audio. This crisp and clear audio allows construction workers to enjoy music even in noisy environments.
Despite impressive ANC capabilities, these earbuds offer 8 hours of playback time with ANC and around 6.3 hours without the ANC. which we think is enough playback time for those who work long hours, such as those in the construction industry.
Reason to Buy and to Avoid:
Pros:
Lighter, more comfortable design
Top-of-line ANC
Excellent Sound Quality
Impressive Battery Life
IPX7-level of Durability
Cons:
Not OSHA nor NIOSH-compliant
No multipoint Bluetooth
Pricey
Sony WF-SP800N: Best Bluetooth Earbud for Heavy Equipment
3 used from $125.19
Free shipping
as of November 22, 2023 12:27 am
Specs and Features:
Durable: IP55 rated
Noise Isolation: Yes
Sound profile: Bassy Sound Profile
Battery Life: 9 Hours
Two-Minute Review:
Being slightly over the budget like QC II and Buds 2 Pro, these earbuds have offered everything if you looking for earbuds for construction work.
Although weighing 9.8 grams, they are still comfortable to wear because of their lightweight plastic constructions and plastic ear tips. As result, they provide the necessary comfort and fit for approximately 4-5 hours before starting any discomfort sets in.
Despite being bulkier, WF-SP800N are IP55 rated for sweat and dust, plus offer a high degree of water resistance. This makes them ideal for construction workers as they can withstand harsh working conditions on the construction site.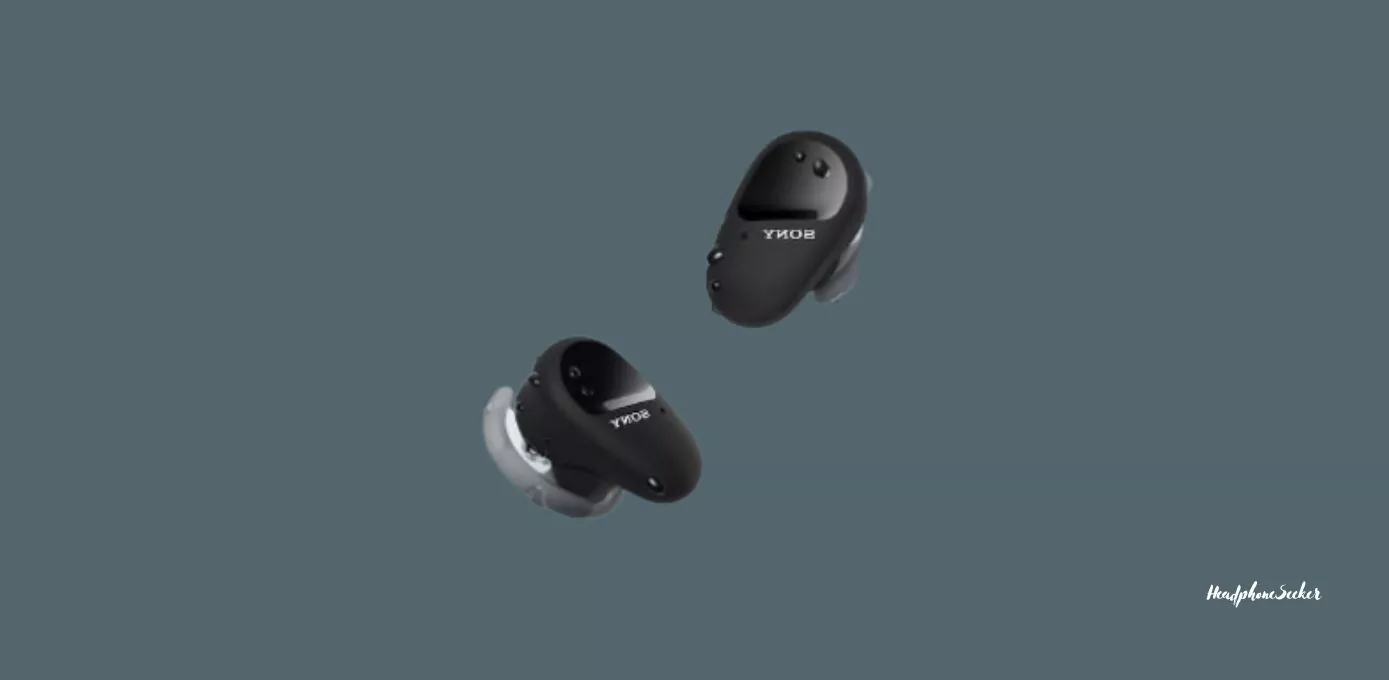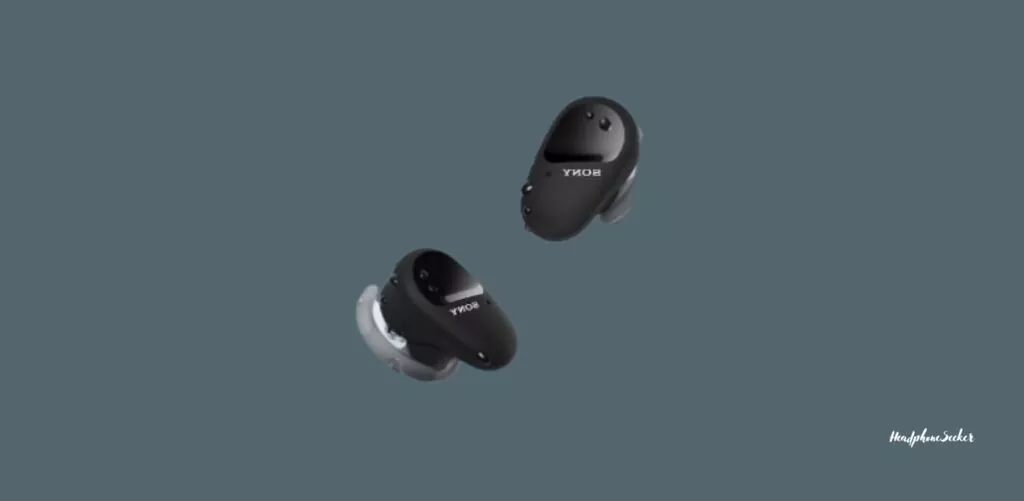 Moreover, Their built-in active noise cancellation also works effectively when we test them on different construction sites. This is because Sony's powerful QN1e HD Noise-Cancelling Processor blocks out high-frequency noises, such as drilling, hammering, and sawing. 
Having a wider soundstage, SonyWF SP800N produces robust and full-on audio to enhance the listening experience while on a construction site. Plus, the 9 hours of battery life is ideal for long working shifts.
Reason to Buy and to Avoid:
Pros:
Impressive ANC
Excellent Sound Quality
Better Battery Life
IP55-level of Durability
Cons:
Not OSHA nor NIOSH-compliant
Bulkier
Pricey
ISOtunes PRO 2.0 Bluetooth Earplug: Most Durable Earbuds
Specs and Features:
Durable: IP67 rated
Noise Isolation: Yes
Sound Profile: Balanced Sound Profile
Battery Life: 16+ hour
Two-Minute Review:
You must be thinking of what these earplugs have to offer under the price tag of $100. I believe these can be the most amazing amount you'll ever spend on a Bluetooth headset if you work around a construction site.
The Pro 2.0 earplugs are noise-canceling Bluetooth earplugs that offer both ear protection and wireless audio delivery. Surprisingly, they are super well around continuous noise emanating from surroundings.
Pro 2.0 is well adapted with a 27 dB noise reduction rating, quite preferable if you are planning on taking up drilling for the week.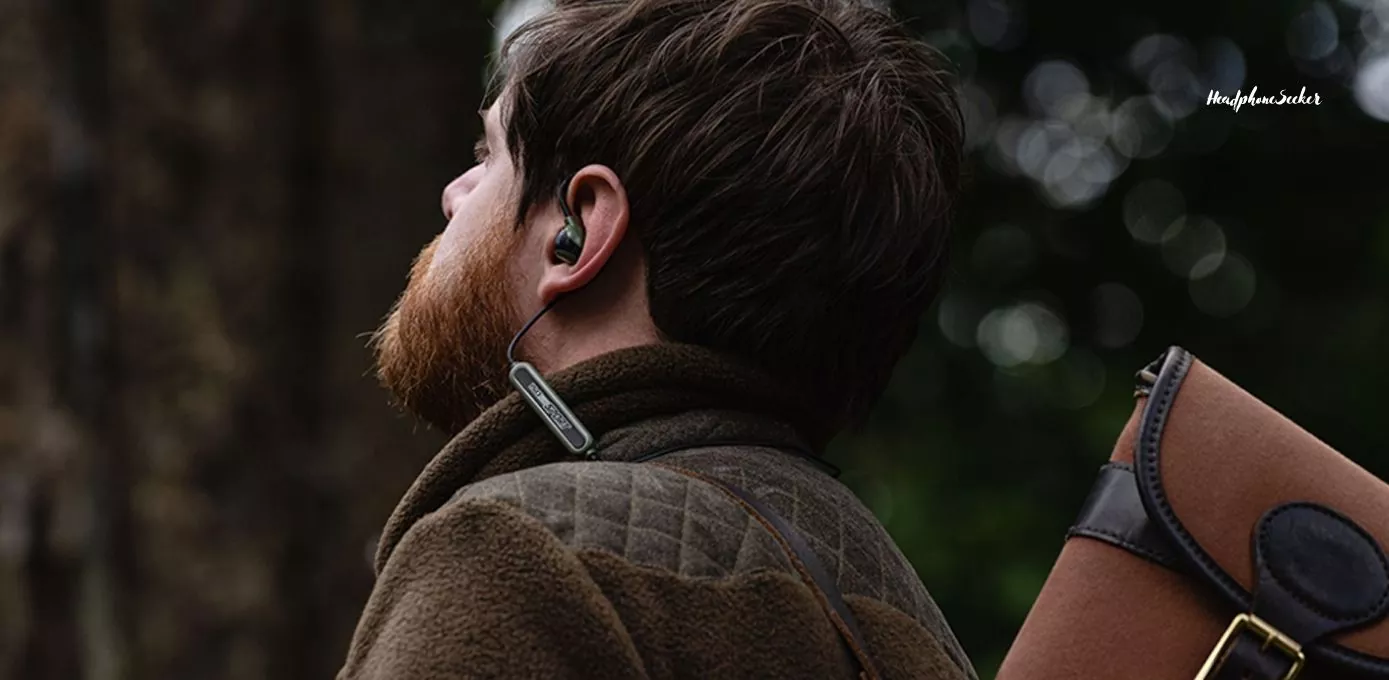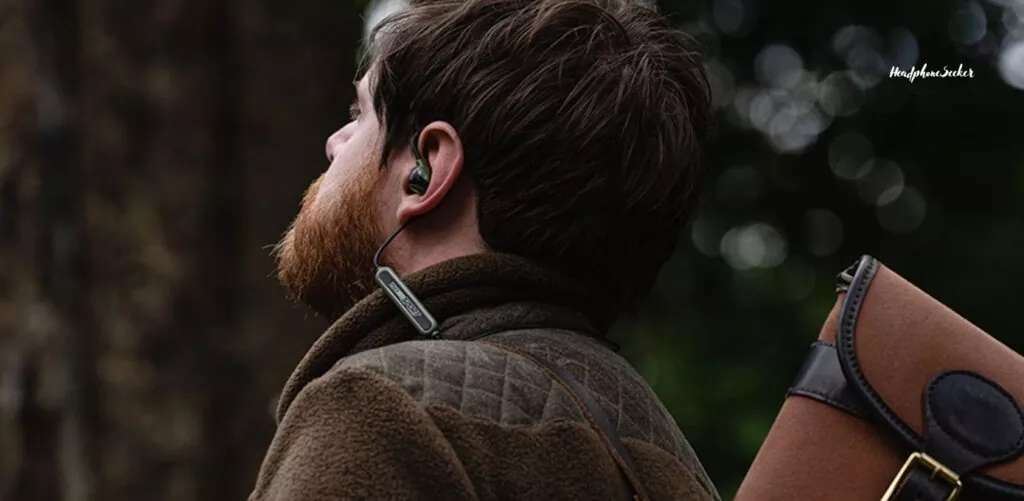 These earplugs are also OSHA and NIOSH-compliant and designed not to damage your hearing at any sound level. The reasoning behind the decision to try this Bluetooth headset was the hype of them as one of the best headphones for construction workers.
With an IP67 rate, the set withstands sweat, water, and dust just as you'd like around a busy job. Moreover, a 16+ hour long battery life makes them last all day on a single charge, which is more than enough even if your construction demands you around a 9 to 5 job, just like some of us.
However, the model features around the ear cord structure, which was sometimes a bit too much for me not to notice since they were always really stiff around the back. 
The SafeMax 85dB volume limit ensures that you will never turn them up too loud and can play music, just like I first did when I bought the pair. Also, the 5.0 Bluetooth technology is enough to keep you connected to your mobile phone even if you plan on moving around to pick up some tools.
Reason to Buy and to Avoid:
Pros
A powerful battery time 
Great noise cancellation technology
Blocks out outside noise
Sweatproof
Cons
Have a chance of falling off
ISOtunes Free True Wireless Earbuds: Best Earphone for Construction Worker
Specs and Features:
Durable: IP45 certified
Noise Isolation: Yes
Sound Profile: Natural Sound Profile
Battery Life: 7 hours
Two-Minute Review:
First of all, these wireless earbuds free you from the hassle of tangled wires on a rather hectic job. Similar to other Bluetooth sets produced by ISOtunes, this set is OSHA compliant and has a reasonable noise reduction rate of 25 decibels.
It has a relatively higher appeal since you can wear these around a construction site and limit most of the outside noise constantly ringing in your ears.
Same as Pro 2.0, these earbuds have a 5.0 Bluetooth connection feature, which is good for an environment that constantly wants you on your toes, but I'd rather not leave my phone around.
In that small body, there is a special noise-suppressing microphone, which lets you take on phone calls and limit the surrounding noise while working, so next time you're deciding on giving a call to your project manager, give it a go.
There are some caveats, these earbuds are particularly not good with sweat. The wireless earbuds will take no time to fall off due to little moisture or movement, something which didn't sit well with me. 
The maximum this Bluetooth headset will last you is around 7 hours, after which you'd probably have to run around at the last minute to charge them, or they might as well die along the way.
Three full charges can give you a playback battery life of 21+ hours, not so convenient if you see. Also, these wireless earbuds come with a portable carrying case.
Reason to Buy and to Avoid:
Pros
Have a noise-canceling feature
Good connectivity
make great use of construction workers
Cons
They're not sweat-resistant and can easily fall off.
ISOtunes Sport Advance Shooting Earbuds: OSHA-Approved Earbuds
Specs and Features:
Durable: IP67 Certified
Noise Isolation: Yes
Sound Profile: Well Balanced
Battery Life: 10 hours
Two-Minute Review:
The ISOtunes Sport advance does what no other sport hearing protection can do, thanks to features like Tactical Sound ControlTM and SafeMax TechnologyTM.
Under $80, these are made to withstand shooting sessions of high decibels, which makes you think they won't work for construction workers. In less than two milliseconds, the advanced earbuds improve your hearing by 8x while protecting you from high-impact noises, such as that of a construction site.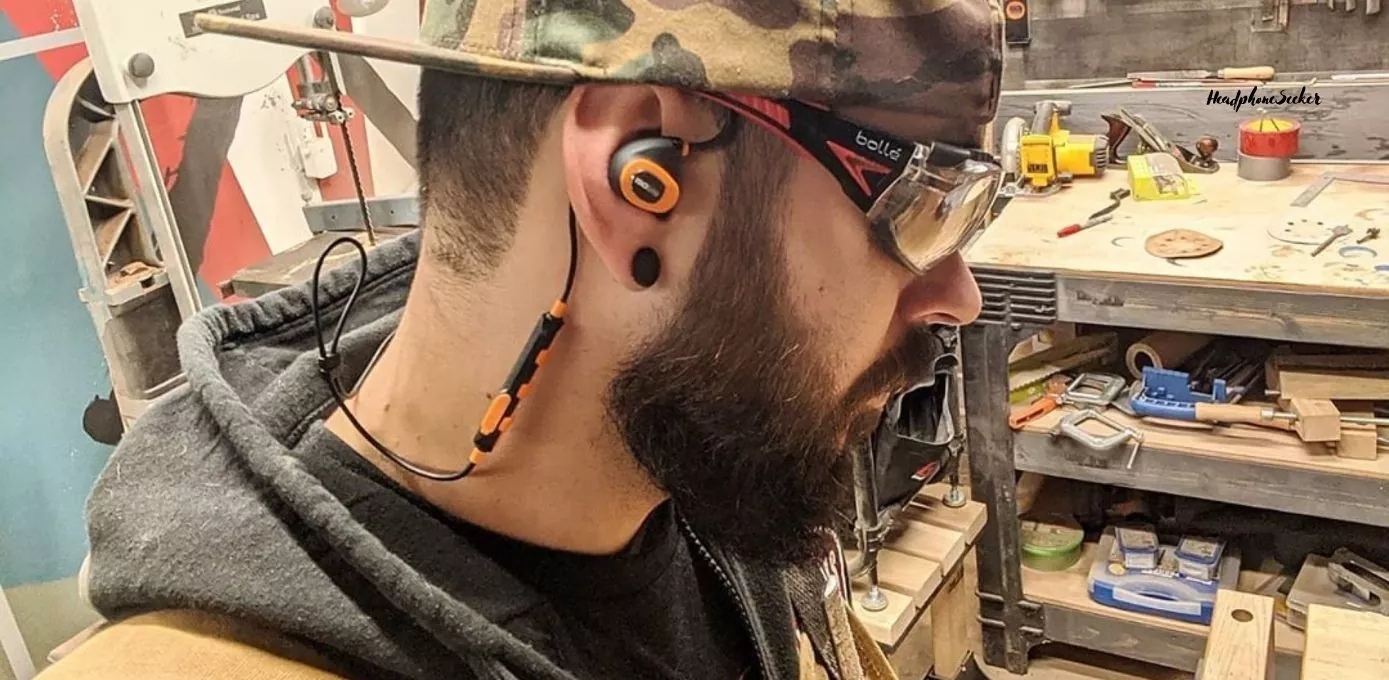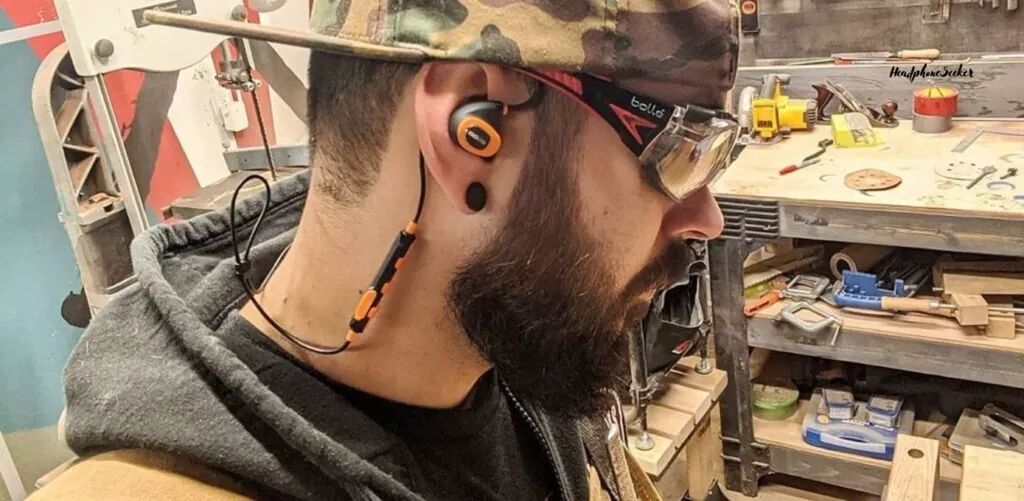 It has a noise-isolating microphone for clear communication in noisy environments, probably the foremost reason I bought these.
These wireless headphones are completely dust, sweat, and waterproof with an IP67 durability rating. Other than this, the power back battery life lasted me for over 10 hours on a single charge, which was quite surprising because the other Bluetooth model from ISO could only power a seven or so hour usage. 
There is a volume limit of 85dB to ensure you don't just go overboard and destroy your normal hearing range if you decide to enjoy some music at your job. The innovative design allows the Bluetooth headset to weigh less than 24 grams. Sometimes you'd even forget it's around your neck.
With an assortment of ear tip options to guarantee a comfortable fit, you can choose whichever suits you best.
Reason to Buy and to Avoid:
Pros
Sweat-resistant
Have a great active noise canceling feature
Quite affordable
Cons
You can easily lose them if you don't keep track of them.
Elgin Ruckus Discord Bluetooth Earplug Earbuds: Rigid Earbuds
Specs and Features:
Durable: IP65 rated
Noise Isolation: Yes
Sound Profile: Neutral Sound Profile
Battery Life: 14 hours
Two-Minute Review:
These Elgin earbuds use a rigid material for their outer cover and surprisingly have a one-year guarantee as well. One thing is for sure the set can easily block out the active noise surrounding a construction site.
The difference was quite noticeable for me, as because they are OSHA compliant with a Noise Reduction Rating (NRR) of 25 decibels, the noise blockage is pretty well. 
It features 5.0 Bluetooth quality as well, plus it is quite adaptive with sensory movements. However, it doesn't qualify as the best fit for hard-working jobs because the wireless earbuds easily slide off. I had to manually keep them in place for the entirety of the process I wore.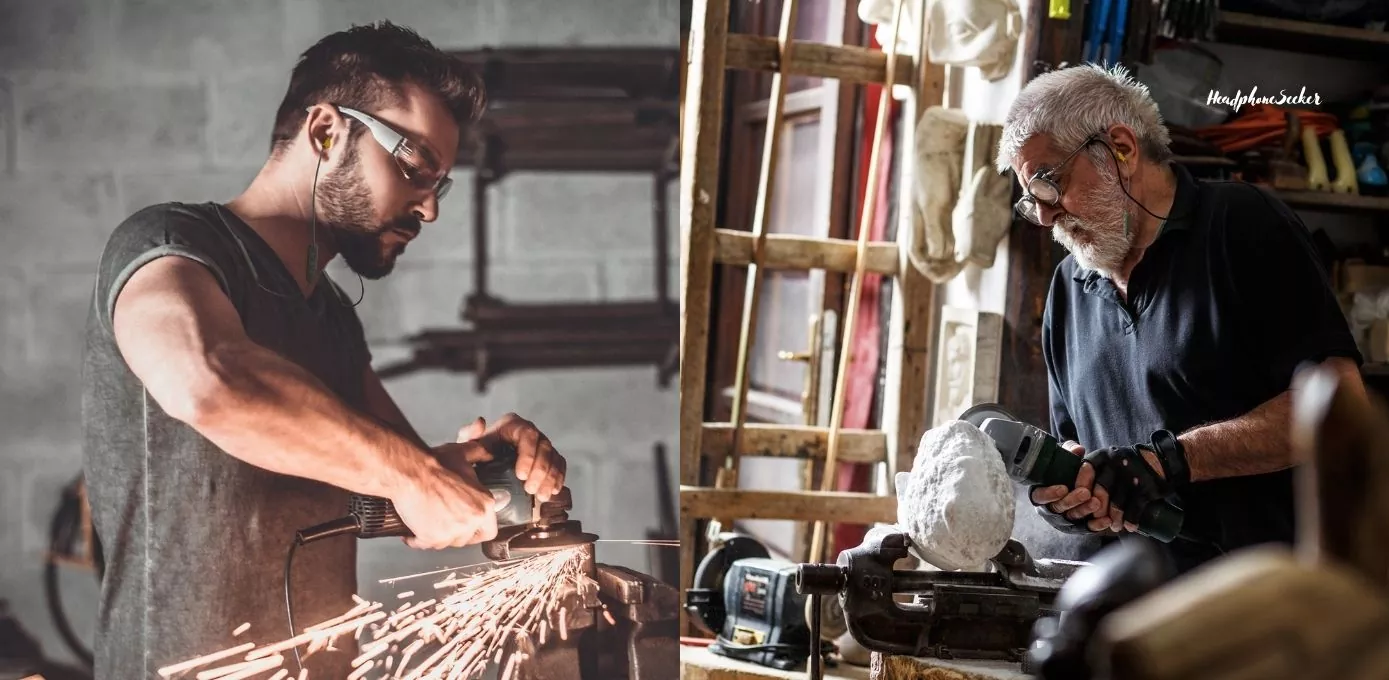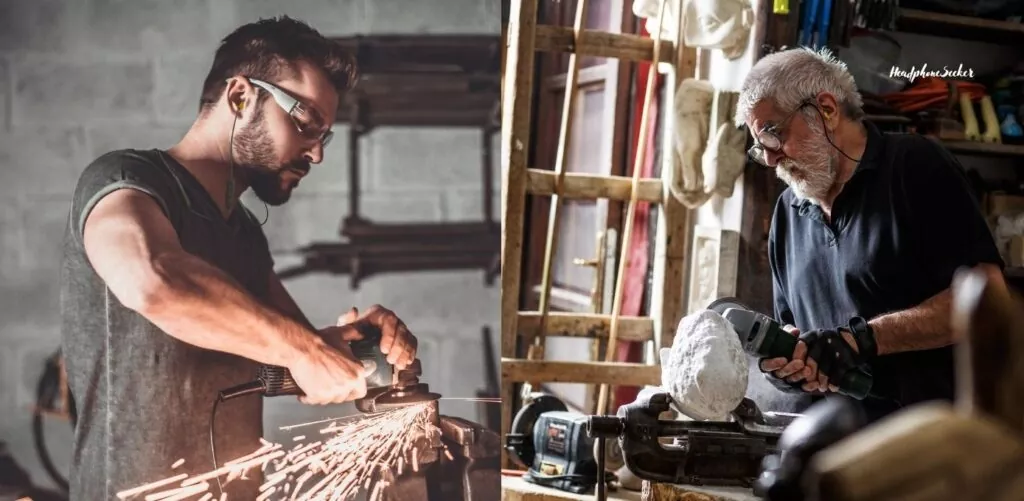 Though the battery life feature overpowers and can last you over 14 hours of continuous power, I'd say it is a pretty solid set for a sit-in job with slight noise here and there. The ear tips are soft and sweat-resistant.
Unlike ISOtunes Free, these are IP65 rated and are durable around high-temperature surroundings. Primarily, the noise-cutting microphone feature was quite helpful for me when I had to go around checking everything was on time and reporting it. Could be easily classified as one of the best construction earbuds.
Apart from all of this, I wanted to test its reliability in the music compartment. Surprisingly, it can increase sound focus and deliver great sound quality music, but you might still be able to hear the noisy machines around you.
Reason to Buy and to Avoid:
Pros
5.0 Bluetooth feature
Noise-canceling technology
Sweat-resistant
Cons
It doesn't have a solid frame to sit in for too long
Mipeace Neckband Wireless Earbuds: Best IPX-Rated Earbuds
Specs and Features:
Durable: IPX5 rated
Noise Isolation: Yes
Sound Profile: Balanced Sound Profile
Battery Life: 16+ hours
Two-Minute Review:
The reason why I wanted to give this wireless set a try was because of the sturdy neckband it features. So far, this is the only piece that sits well around my neck and even supports extended usage, despite moving around a job.
In the wireless category, these earbuds have a striking 29 decibels noise reduction rating, which is highly durable around manufacturing jobs. 
Apart from this, the shaped earbuds give them an upper hand over other products in the market and could be the best Bluetooth headset you can afford. The material was quite soft and, for the most part, blocked the surrounding noise.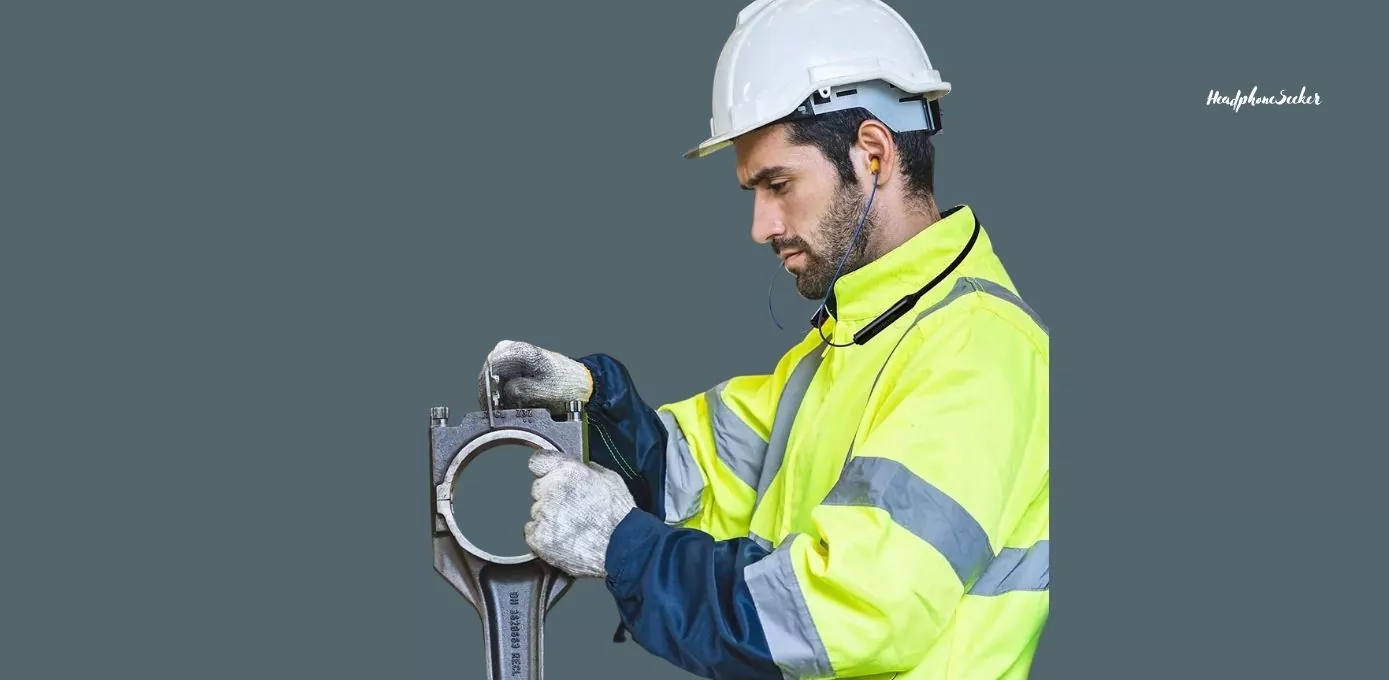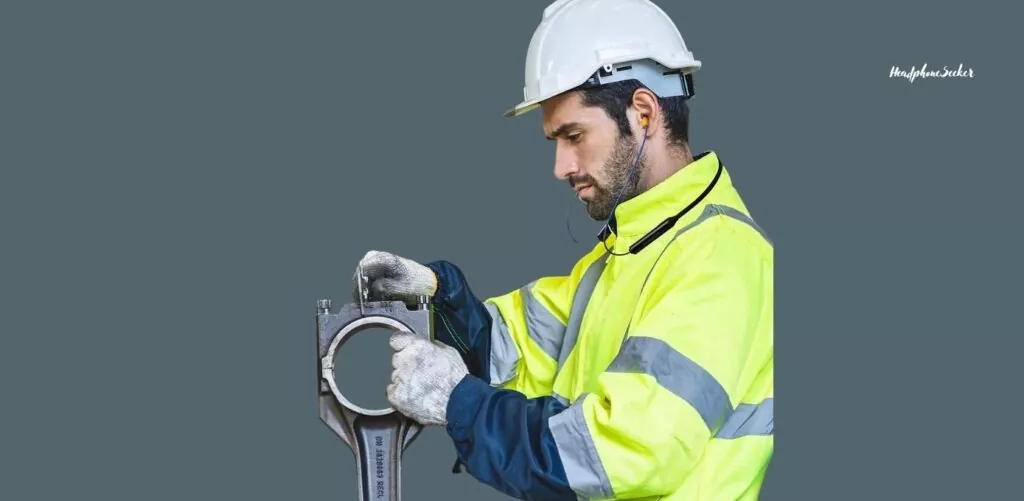 However, sometimes the muffled echo was a bit too much to handle. You can take on phone calls, the microphone decreases active noise, and it cuts the surrounding commotion, though it might give you a hard time listening to what the other party has to convey.
It has 16+ hours of supporting battery life and adequate sound delivery throughout. Though as the battery life decreases, you can hear the visible difference in the quality, and you'd instead want to go and charge them. The 5.0 Bluetooth connectivity was a plus point for once when I had to fetch the files for construction design. 
The neckband is tested against IPX5 waterproof level and is sweatproof, which I always prefer in wireless headphones earbuds.
Reason to Buy and to Avoid:
Pros
Sturdy neckband
Sweat-resistant
A clear voice delivering a microphone
Cons
It doesn't completely block out the noise
Plugfones Liberate 2.0: Best Earbuds for Outdoor Work
13 new from $69.45
1 used from $75.55
Free shipping
as of November 22, 2023 12:27 am
Specs and Features:
Durable: Not Specified
Sound Profile: Bassy Sound Profile
Battery Life: 12 hours
Noise Isolation: Yes
Two-Minute Review:
Quite frankly, the set loses most of its appeal due to the lousy built structure. On first impression, I was quite hesitant to give it a try but went with it due to the noise reduction rating of 27 decibels. 
The simple earbud design effectively blocked most of the background noise around the construction area, but you could still detect some faint hammering and drilling in the background. The OSHA ear protection standard in this device further confirms the liability of the earplugs against loud approaching commotion. 
 It has a small panel of quick controls that allows you to have quick access whenever you want to end or take on phone calls. The IsoTalk feature, more importantly, decreases the decibels of the wind or noise in the construction area.
Similar to other wireless earbuds, this one also features an active noise-canceling microphone to muffle the noise somewhat, however, doesn't completely block it. 
The earplugs are available with ComforTwist Foam, and interchangeable silicone ear tips to give you a chance to settle for your comfort. Also, the sweat-resistant feature was quite effective, even when I had them on for over five consecutive hours.
Reason to Buy and to Avoid:
Pros
Great sweat-resistance
The good noise-cancellation feature
Cons
The microphone doesn't completely cut out the noise.
ISOtunes Xtra 2.0: Best Dust Resistant Earbuds
Specs and Features:
Durable: IP67 rated
Noise Isolation: Yes
Sound Profile: Dynamic Sound Profile
Battery Life: 8 hours
Two-Minute Review:
The wireless upgrade is the ISOtunes XTRA 2.0 with a noise reduction rating of 27, which has Bluetooth 5, a rugged design, and a high dust-and-water resistance rating (IP67), and can connect to two Bluetooth devices at the same time.
They'll perform dual actions simultaneously, it is quite new, right? You can use them to block the noise from around you and can listen to music without any ear pressure. 
With a marketed battery life of up to eight hours, you won't have to worry about charging your headphones every few hours. They'll last all day (at school or the job site). Needless to say, if you're a construction worker, you should wear them to reduce the monotonous noises to a single drop.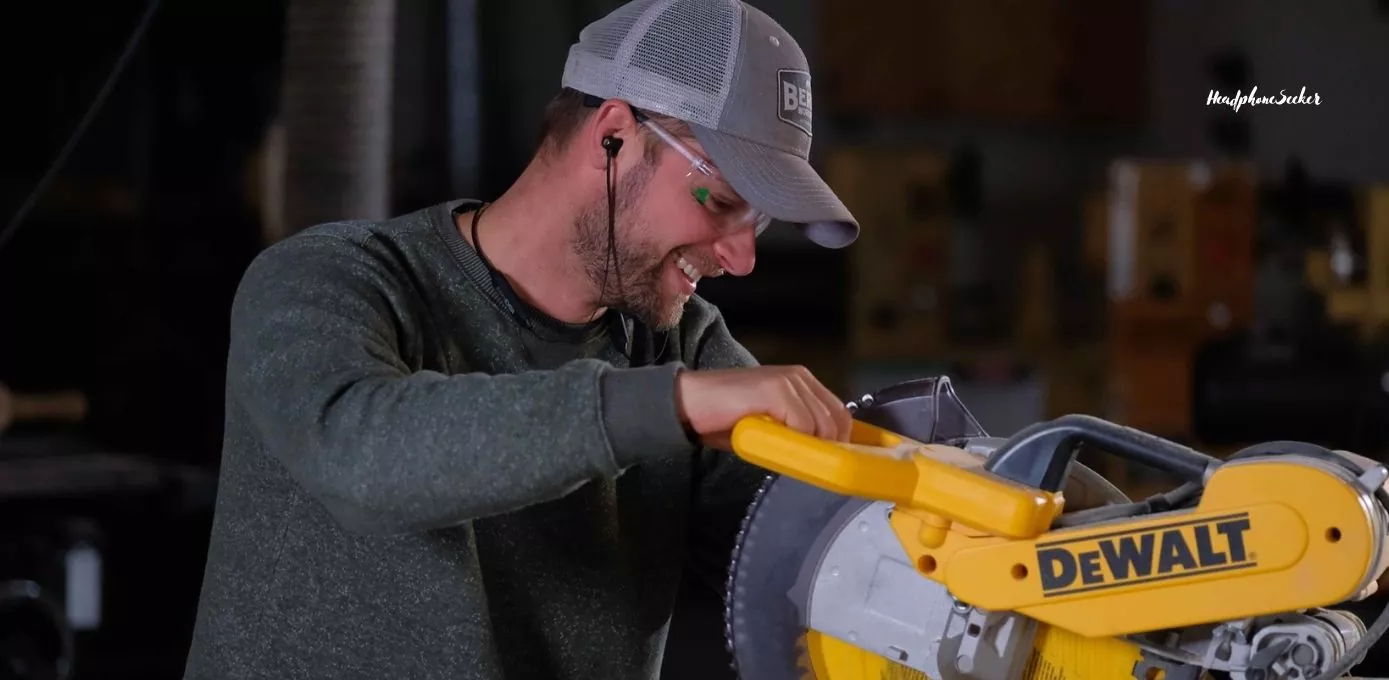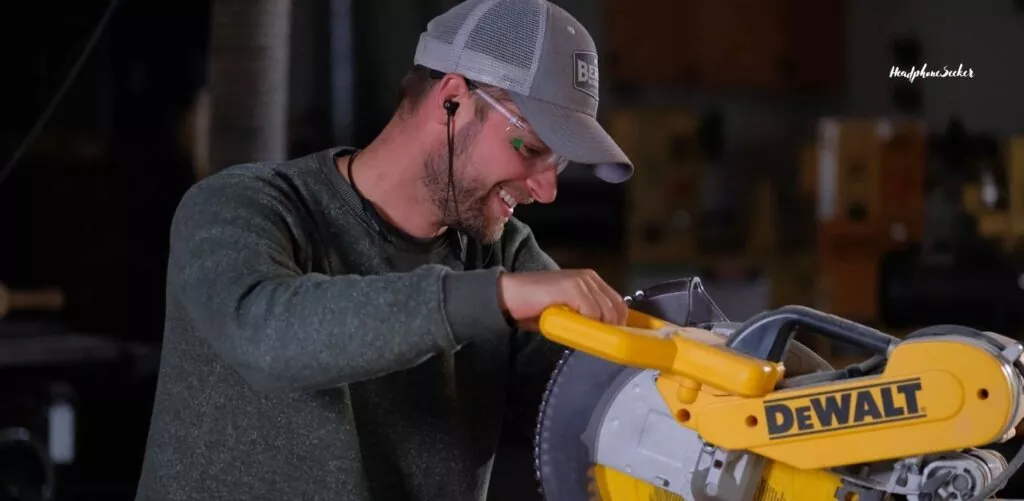 This Bluetooth headset for construction workers features a noise-isolating microphone that works well in a moderate-noise environment. Comparatively, if you plan to use this feature around a blower, don't.
It can block the average noises of a mower and a coffee maker, not your construction machinery. In a high-noise environment, the microphone does reduce the noise to some extent, but the speech gets cut out as well. Communication is no longer possible.
The set features SafeMax Technology of 85 dB maximum sound, so you don't go crazy over your favorite song. Overall the sound quality is amazing and goes above-average range to deliver a high bass. In the listed price range, it is a good suitor to use.
Reason to Buy and to Avoid:
Pros
Noise-canceling earbuds
Good music experience
Cons
The microphone doesn't live up to the hype.
Dewalt Wireless Neck Headphones: Best Around-the-Ear Earbuds
13 new from $46.00
1 used from $55.12
Free shipping
as of November 22, 2023 12:27 am
Specs and Features:
Durable: IPX6 rated
Noise Isolation: Yes
Sound Profile: Bass Havey Sound Profile
Battery Life: 15+ hour
Two-Minute Review:
As far as-built construction is concerned, it takes all the points. Quite literally, you can think of it as a headset for construction workers by just looking at it. The neckband is sturdy plastic, which was wide enough to perfectly sit around for as long as I wanted.
The exterior is quite rough, but that wasn't a problem for me since it was flexible. From the looks, the set most definitely looks like something a construction site or woodworker would wear. 
The earbuds have a small ear hook to put around your ear. Even though it is small compared to other around-the-ear earbuds, it puts a bit too much pressure.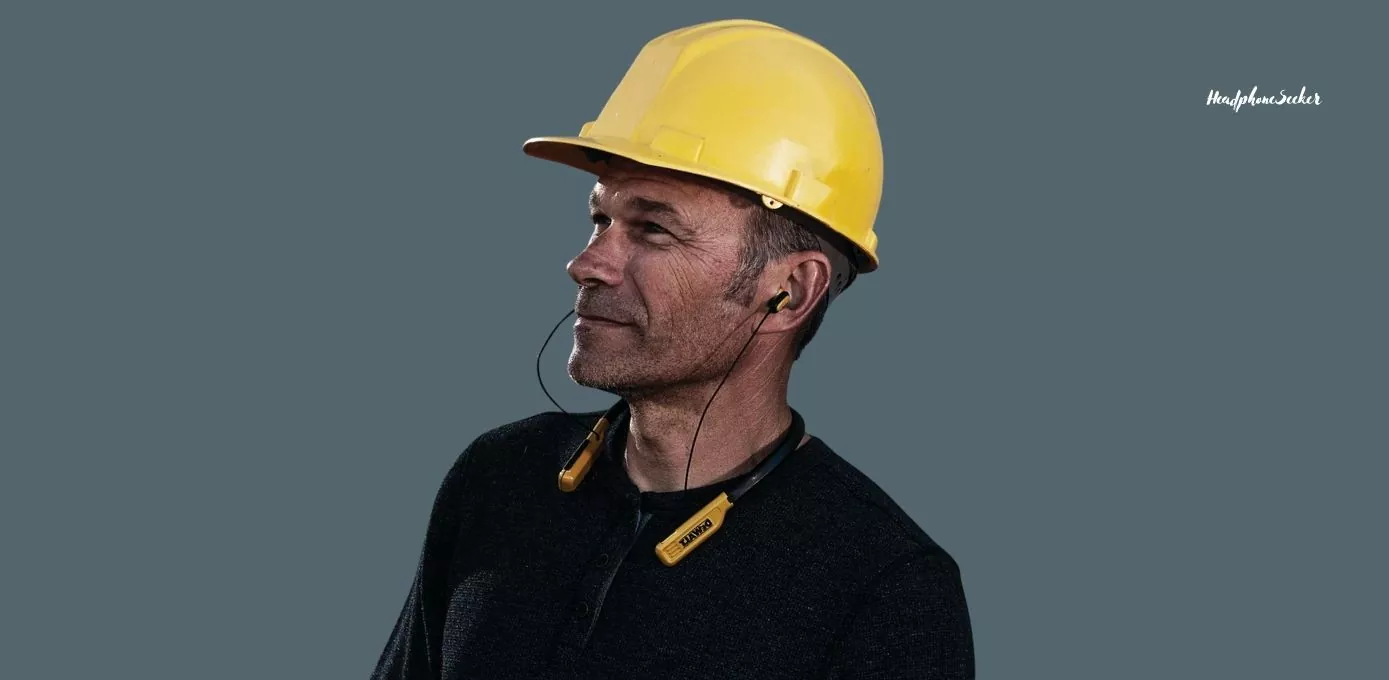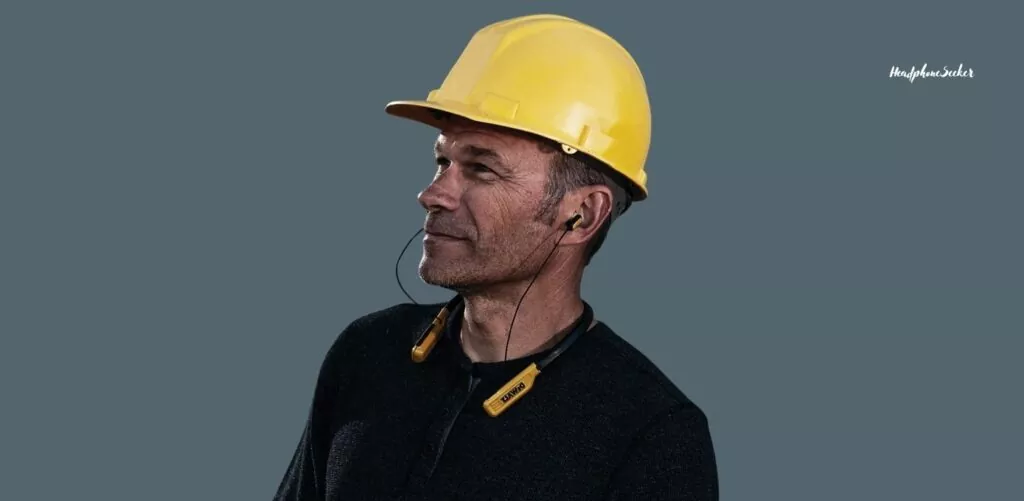 Unfortunately, Dewalt's wireless headphone doesn't sit well with noise-cutting technology. It barely supported a normal hearing phenomenon, and I could hear everything and anything that happened around the cement mixing. 
Besides, the IPX6 water resistance technology somewhat makes it up for the negative points. If this is something that attracts your attention, you should try it out then.
Because even after 4.5 hours of constant outdoor site managing the Bluetooth headphones didn't have a tinge of sweat or moisture on them. Plus, the sturdy headband was quite supportive as well.
These headphones have integrated volume controls. You can easily pick up and drop calls. The 15+ hour talk time is my favorite feature of this set. I was able to take over my extra night shift and listen to some music and podcasts. The sound quality is bearable, only if no machines are working on the side.
Reason to Buy and to Avoid:
Pros
Supportive headband
Sweat-resistant quality
Cons
Doesn't have a great noise-cutting technology
Elgin Rumble Bluetooth Earplug Earbuds: Wireless Earphones for Workers
Specs and Features:
Durable: IP67 rated
Noise Isolation: Yes
Sound Profile: Rich Dynamic Sound Profile
Battery Life: 20+ hours
Two-Minute Review:
I've had these Elgin earbuds for over a week now, and they work far too well under the price listed. The reason why I give them a go was because of the audio quality noise-canceling feature.
It is safe to say they didn't disappoint. The noise-canceling quality was supportive to block out the blower's noise for hours on end and I could just look over other things. It has a 27-decibel rating of NRR and is OSHA-compliant. 
Unlike Dewalt's headphones, it has a slimmer neckband which is equally solid but it is not adjustable. Could only stay at a place for about 7 minutes of me sitting like a statue, otherwise, it's too dangling. The ear tips are made out of soft material, so you can just wear them for hours on end. 
The battery life has a playback time of 20+ hours, which lasted me throughout the day while I was counting on my favorite songs to play. 
Nevertheless, it is a great piece to wear at work, especially an active job as a construction worker. While you can still don them if you're planning on ignoring your siblings or some of your relatives because the ear tips are seemingly generous in blocking out unnecessary noises.
Reason to Buy and to Avoid:
Pros
Good NRR and cancels background noise
A solid battery life
The good audio quality for a Bluetooth headset
Cons
The neckband isn't as accommodating
What to Look for When Buying the Earbuds For Construction Workers:
There are a few things you must consider when buying earbuds as companions for a construction site.
Durability and Comfort:
Construction workers require earbuds that can withstand the rigors of the job site. Look for earbuds with the sturdy build quality, water-resistant or waterproof ratings, and materials that can handle wear and tear.
Furthermore, comfort is another area that must consider. So go for the earbuds which have adjustable ear hooks and options for multiple ear tip sizes to ensure a proper fit and comfort during use.
Noise Reduction:
Nowadays many earbuds are cable-blocking out external noises ranging from low to high-frequency noise. But in the case of noisy environments of construction sites, we need earbuds that must have a minimum of 27 decibels noise reduction rating.
Having noise reduction technology in earbuds will give you better audio clarity and reduce the risk of hearing damage.
Although there is also a debate in which many experts do not recommend earbuds that offer noise reduction. Because they can completely block out external sounds, which may be dangerous for construction workers as they need to be aware of their surroundings. 
However, with the advancement in technology, now earbuds are equipped with many smart features like aware mode, speak-to-chat mode, Active sense, and many more like this. As these features automatically pause the music when someone talks or ambient noise is detected. We think these features become a more practical choice for construction workers.
Battery Performance:
Battery performance is another key factor when purchasing earbuds for construction work. And Long battery life is essential for workers who spend extended periods on the job site.
So buy the earbuds which provide at least 6 or more hours of playback time, so you don't have to constantly recharge the buds during the workday.
Sound Quality:
According to us, sound quality is the least important factor in this buying guide however, that doesn't mean it should be completely ignored. 
Earbuds with decent sound quality can still enhance the listening experience on the job site and provide a more enjoyable work experience.
So invest in earbuds that offer a well-balanced sound profile, and handle the mid and high frequencies for crisp and clear audio quality.
Finals Words
All of these earbuds and Bluetooth headphones are designed to decrease, muffle, and completely block the background noise. Now it depends on whether you plan on using them at the construction site, at home, on a walk, or simply to work on a lawn. 
Construction workers are required to work long hours. They require an earbud that will stay in place while performing manual labor and will not become tangled or damaged by the equipment. Keeping this in mind, I have listed and reviewed the top 9 best Bluetooth earbuds for construction workers.
Depending on the sound quality, long battery life, and echo-cancellation technology you can decide which one could be the best noise-canceling headphone you want to go with.
Frequently Asked Questions:
What does OSHA say About Earbuds in the Workplace?
OSHA does not say anything about whether to use earbuds or headphones in the workplace or not. But according to OSHA Hearing Protection standard, 29 CFR 1926.101, whenever necessary employers have to provide ear protective devices to their employees to reduce the risk of hearing damage.
Can Earbuds Replace Hearing Protection?
No, earbuds cannot replace hearing protection devices as they are not designed to provide adequate protection from high decibel noise levels typically found on construction sites. While some earbuds may offer noise reduction or cancellation features, they are not a substitute for proper hearing protection.
Is it OK to Wear Noise Cancelling Headphones at Work?
Yes, it's okay to wear NC headphones and earbuds at work as long as you are in a low-decibel noisy environment. According to Environmental Health & safety department, you must use a hearing protection device instead of NC earbuds in high decibel noisy environment to protect your hearing.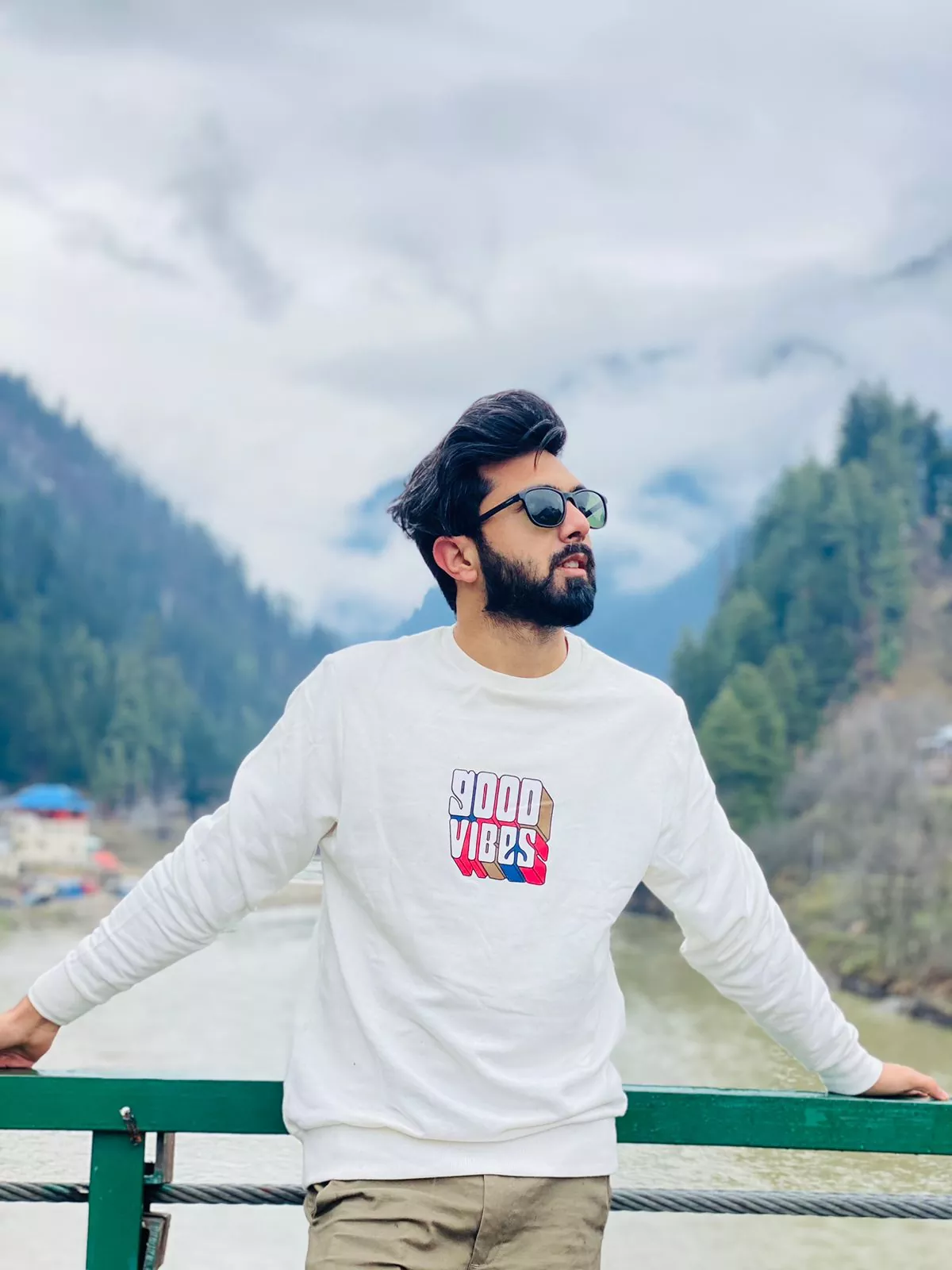 I created this blog to help people find the right Headphones, Earbuds, and headsets for their taste, to keep tabs on the latest news and leaks, and to share my experience with different Headphones.